JOINT PROBLEMS AND ARTHRITIS IN HORSES AND PONIES
DO FEED SUPPLEMENTS HELP FOR (OSTEO)ARTHRITIS IN HORSES?
Valerie De Clerck, Doctor of Veterinary Medicine
Arthritis is the most common cause of lameness in horses regardless of their discipline or occupation. When your horse has an inflammation of the joint it is important to alleviate pain and to reduce the inflammation as soon as possible. Always contact your veterinarian for advice.
Feed supplements can be an important part of the prevention and treatment of joint problems. There are several types of joint supplements on the market and it is therefore important to choose wisely. In this article we will explain you what (osteo)arthritis is and which supplements might help to support the joints of your horse.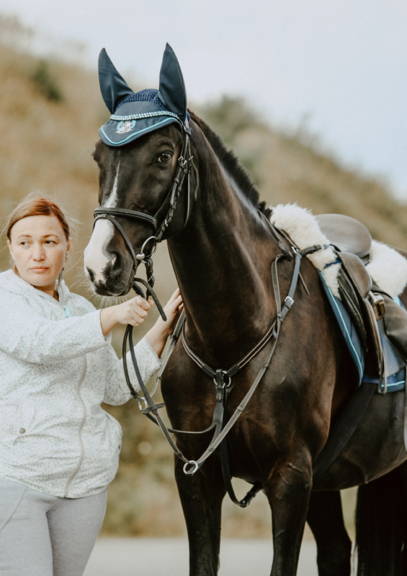 what is (osteo)arthritis in horses?
Arthritis can be simply defined as inflammation of the joint. It can occur suddenly after trauma or gradually due to intensive training or ageing of the horse.
If the cartilage of the joint is also damaged, we call it osteoarthritis. Osteoarthritis can not be cured, and therefore reducing inflammation, pain and preventing further damage is crucial when your horse has arthritis.
LET'S have a look at THE NORMAL ANATOMY OF A JOINT IN A HORSE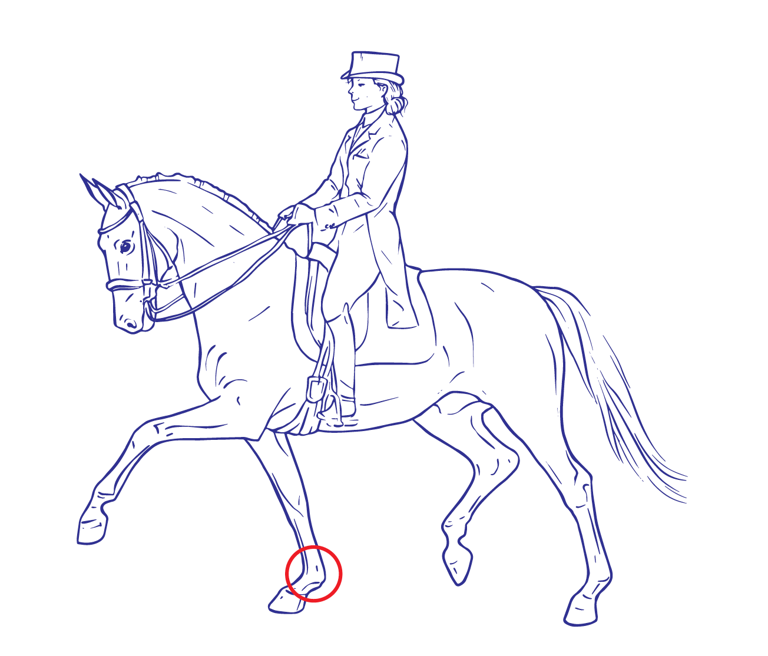 A joint is simply the place in your horse's body where two bones are connected. To move over each other, the bones are covered by a soft cushion, called the cartilage. The two bones are further secured by ligaments and the joint capsule.
To allow a smooth movement, the joint cavity is filled with synovial fluid. The joint capsule has an inner layer (synovium) which regulates the amount of synovial fluid and an elastic outer layer that allows movement of the joint.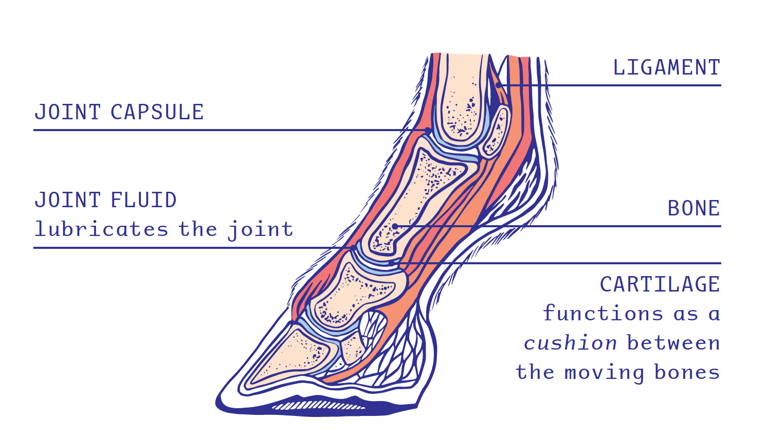 that a defect in the cartilage can hardly recover? Total renewal of collagen - one of the main components in cartilage - would take over 100 years… Correct, that exceeds by far the lifetime of your horse.
WHY ARE SPORT HORSES PRONE TO JOINT PROBLEMS?
In sport horses, who train intensively, arthritis is often caused by a repetitive high impact loading on the joint. This leads to inflammation of the joint capsule.
FROM ARTHRITIS (inflammation) TO OSTEOARTHRITIS (damaged cartilage)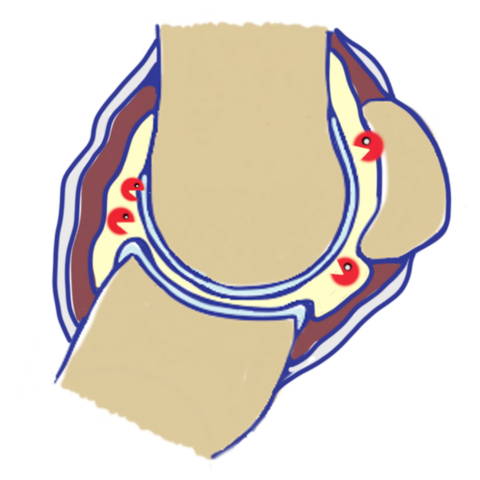 STAGE I: inflammation of the joint capsule
The joint capsule is inflamed, swollen and red. The joint capsule releases substances (degrading enzymes and cytokines) which damage the cartilage.
The amount of joint fluid increases and the joint is swollen. The swelling causes pain and discomfort for the horse and leads to micro-instability of the joint, which again damages the cartilage.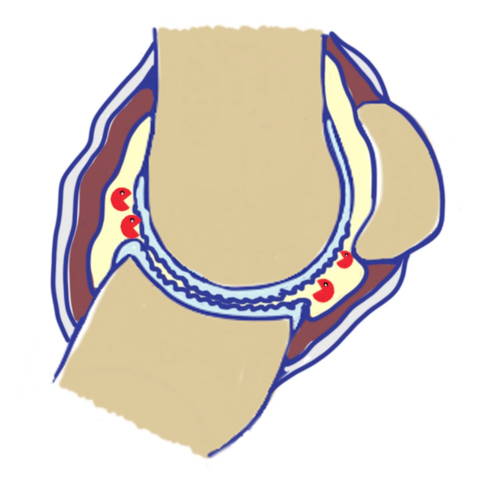 STAGE II: cartilage damage = fibrillation
The substances are further damaging the cartilage, which is called fibrillation.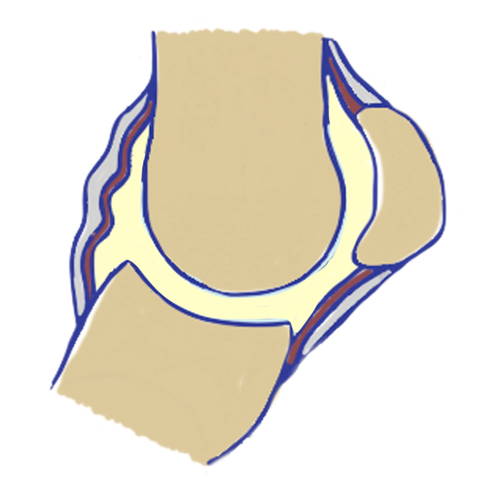 STAGE III: chronic inflammation
The inflammation of the joint becomes chronic and the cartilage damage goes down to the bone. The cushion between the bones is now almost gone.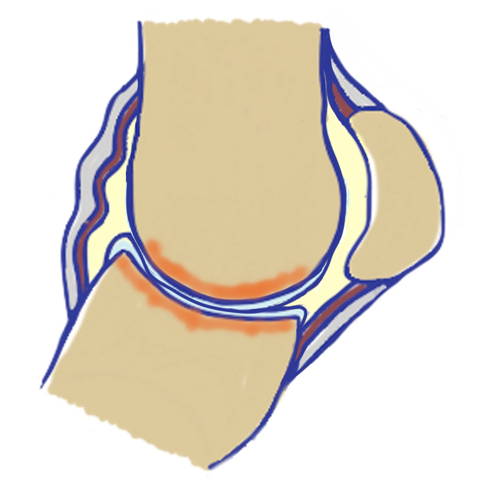 STAGE IV:damage to the bone
The bones are now moving over each other without a cushion. This damages the bone and is very painful. The joint capsule is no longer elastic but became firm and rigid. The joint is stiffer and limited in its ability to move and shock absorption gets worse.
WHICH SUPPLEMENTS CAN HELP TO SUPPORT the joints of MY horse?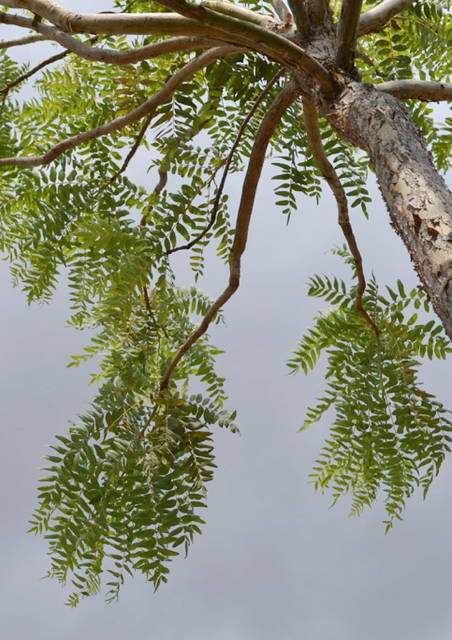 Image: the resin of the Boswellia Serrata tree is a very good natural painkiller that has been used for centuries to treat joint problems in both humans and animals.
Once the cartilage is damaged it can not be repaired. Therefore, early treatment - and even better - prevention of arthritis is important. The right nutrition, a training program adapted to your horse's needs and proper shoeing will get you a long way.
When choosing a feed supplement to support the joints of your horse can choose between two major "groups" of supplements.
1. Feed supplements containing building blocks for the joints
Building blocks for the joints such as MSM, chondroitin, glucosamine and silicon are important for keeping cartilage healthy in the long run. These substances are very useful to feed young growing horses or horses that do not have any problems yet.
If your horse is older than 12 years, if he is trained intensively or if he has known joint issues, it is recommended to combine the building blocks with a feed supplement that also support the natural defence of the joint (see below).
Remember that once the cartilage is damaged it cannot be repaired. Products claiming this effect are worthless...
2. Feed supplements containing natural painkillers and anti-inflammatory plants to support a horse with arthritis.
When your horse is lame and the joint is inflamed (arthritis) it is very important to contact your veterinarian as soon as possible.
In addition, you can support the joints of your horse with plant-based ingredients with natural painkilling and anti-inflammatory effects, such as Indian frankincense (Boswellia serrata), turmeric (Curcuma longa), blackcurrant (Ribes nigrum) and meadowsweet (Spiraea ulmaria).
Plants like horse-chestnut promote blood flow, which has a beneficial effect on the healing of the joints.
FLEXI MIX PLUS (FLEXI MIX + CURCA-FLEX LIQUID) is an excellent combination of building blocks for the cartilage and plants to support the natural defence of the joints.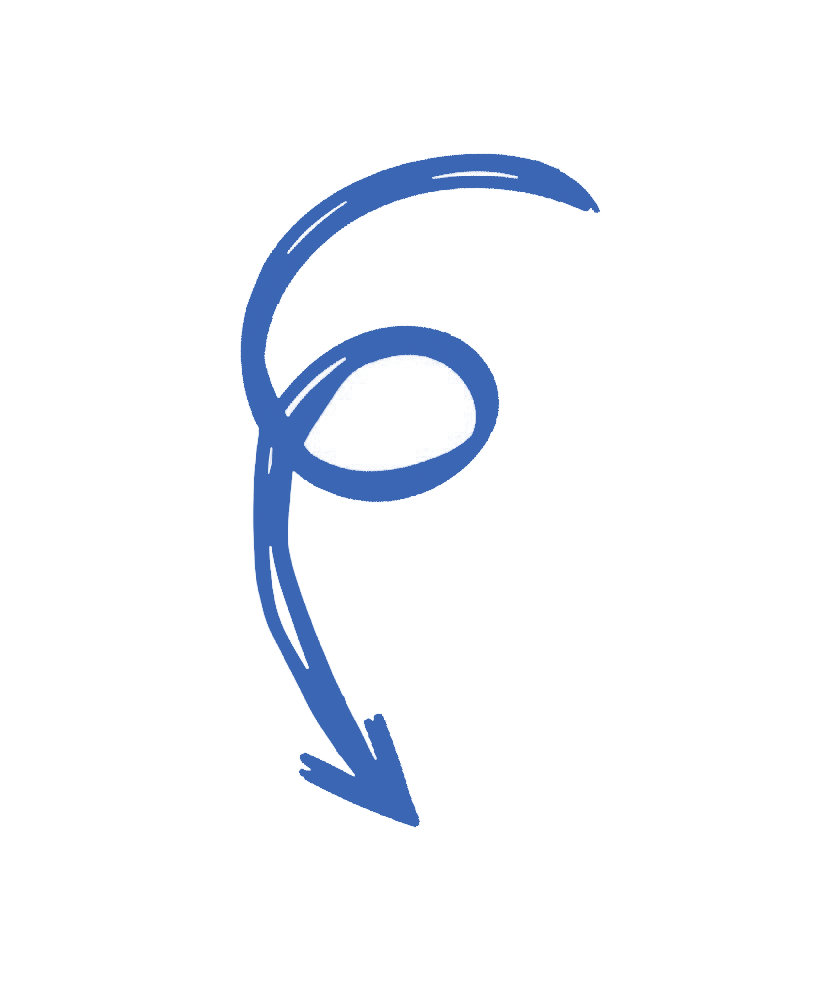 1. Woodward AD, Nielsen BD, O'Connor CI, Skelly CD, Webel SK, Orth MW. Supplementation of dietary long-chain polyunsaturated omega-3 fatty acids high in docosahexaenoic acid (DHA) increases plasma DHA concentration and may increase trot stride lengths in horses. Equine Comp Exerc Physiol. 2007;4(2):71-78. doi:10.1017/s1478061507811443
2. Baxter GM. Adams and Stashak's Lameness in Horses. Sixth edit. Wiley-Blackwell; 2011.
3. Prabhavathi K, Shobha Jagdish Chandra U, Soanker R, Usha Rani P. A randomized, double blind, placebo controlled, cross over study to evaluate the analgesic activity of Boswellia serrata in healthy volunteers using mechanical pain model. Indian J Pharmacol. 2014;46(5):475-479. doi:10.4103/0253-7613.140570
4. Farinon M, Lora PS, Francescato LN, et al. Effect of Aqueous Extract of Giant Horsetail (Equisetum giganteum L.) in Antigen-Induced Arthritis. Open Rheumatol J. 2014;7(1):129-133. doi:10.2174/1874312901307010129
5. Al-Snafi PDAE. The pharmacology of Equisetum arvense- A review. IOSR J Pharm. 2017;07(02):31-42. doi:10.9790/3013-0702013142
6. Ammon HPT, Mack T, Singh GB, Safyhi H. Inhibition of Leukotriene B4 Formation in Rat Peritoneal Neutrophils by an Ethanolic Extract of the Gum Resin Exudate of Boswellia serrata. Online. 2007.
7. Umar S, Umar K, Sarwar AHMG, et al. Boswellia serrata extract attenuates inflammatory mediators and oxidative stress in collagen induced arthritis. Phytomedicine. 2014:1-6. doi:10.1016/j.rgmx.2019.08.007
8. Menon MK, Kar A. Analgesic and psychopharmacological effects of the gum resin of Boswellia serrata. Planta Med. 1971;19(4):333-341. doi:10.1055/s-0028-1099651
9. Henrotin Y, Priem F, Mobasheri A. Curcumin: A new paradigm and therapeutic opportunity for the treatment of osteoarthritis: Curcumin for osteoarthritis management. Springerplus. 2013;2(1):1-9. doi:10.1186/2193-1801-2-56
10. Dejonckheere MRCVS V. Turmeric for Osteoarthritis in Veterinary Medicine: a Review. 2013:11-16. http://www.herbalvets.org.uk/wp-content/uploads/2016/10/turmeric-dejonckheere.pdf.
11. Farinacci M, Gaspardo B, Colitti M, Stefanon B. Dietary administration of Curcumin modifies transcriptional profile of genes involved in inflammatory cascade in horse leukocytes. Ital J Anim Sci. 2009;8(SUPPL. 2):84-86. doi:10.4081/ijas.2009.s2.84
12. Gopi S, Jacob J, Varma K, et al. Comparative Oral Absorption of Curcumin in a Natural Turmeric Matrix with Two Other Curcumin Formulations: An Open-label Parallel-arm Study. Phyther Res. 2017;31(12):1883-1891. doi:10.1002/ptr.5931
13. Bowe A. MSM and Healthy Hooves. Horses and people.:53-59.
14. Rizzo R, Grandolfo M, Godeas C, Jones KW, Vittur F. Calcium, sulfur, and zinc distribution in normal and arthritic articular equine cartilage: A synchrotron radiation‐induced X‐ray emission (SRIXE) study. J Exp Zool. 1995;273(1). doi:10.1002/jez.10143
15. Lawrence RM. METHYL-SULFONYL-METHANE (M.S.M.) A DOUBLE BLIND STUDY OF ITS USE IN DEGENERATIVE ARTHRITIS. Int J Anti-Aging Med. 1998;1(50):1-4.
16. Usha PR, Naidu MUR. Randomised, double-blind, parallel, placebo-controlled study of oral glucosamine, methylsulfonylmethane and their combination in osteoarthritis. Clin Drug Investig. 2004;24(6):353-363. doi:10.2165/00044011-200424060-00005
17. Kim LS, Axelrod LJ, Howard P, Buratovich N, Waters RF. Efficacy of methylsulfonylmethane (MSM) in osteoarthritis pain of the knee: A pilot clinical trial. Osteoarthr Cartil. 2006;14(3):286-294. doi:10.1016/j.joca.2005.10.003
18. Barrager E, Veltmann JR, Schauss AG, Schiller RN. A multicentered, open-label trial on the safety and efficacy of methylsulfonylmethane in the treatment of seasonal allergic rhinitis. J Altern Complement Med. 2002;8(2):167-173. doi:10.1089/107555302317371451
19. Haiglert HJ, Spring DD. Comparison of the analgesic effects of Dimethyl Sulfoxide and Morphine. 1983:19-27.
20. Evans MS, Reid KH, Sharp JB. Dimethylsulfoxide (DMSO) blocks conduction in peripheral nerve C fibers: a possible mechanism of analgesia. Neurosci Lett. 1993;150(2):145-148. doi:10.1016/0304-3940(93)90522-M
21. Verhelst G. Groot Handboek Geneeskrachtige Planten.; 2018.
22. Declume C. Anti-inflammatory evaluation op a hydroalcoholic extract op black currant leaves (Ribes nigrum). J Ethnopharmacol. 1989;27(1-2):91-98. doi:10.1016/0378-8741(89)90081-0