Should I give a NATURAL DENTAL STICK to my dog?
Are you looking for a natural, vegetarian and healthy dog chew that doesn't stink?
Then the NATURAL DENTAL STICK is perfect for you!
CURAFYT's natural dental stick is a delicious chew to provide your dog with hours of chewing pleasure and to support your dog's dental health. The natural dental stick is low in calories and lactose.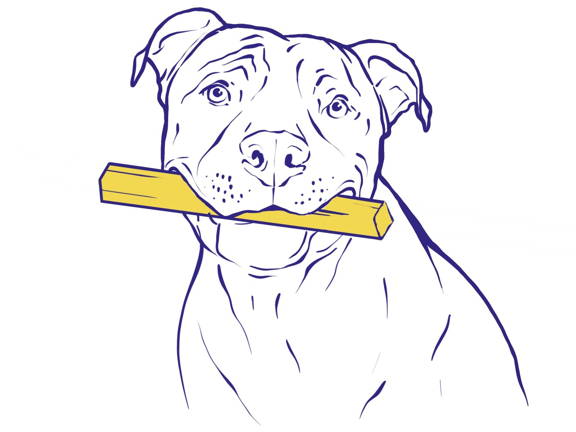 Milk, milk by-products & sea salt
crude protein: 65,0%
crude fat: 9,5%
crude ash: 4,5%
crude fibre: 0,5%
Which size and how many NATURAL DENTAL STICKS should I give to my dog?
X-Small (27g): for dogs up to 5 kg (e.g. Chihuahua, Daschund, Maltese, Papillon, Pomeranian, Yorkshire Terrier)
Small (48g): for dogs from 5 to 9 kg (e.g. Boston Terrier, Bichon Frise, Shih Tzu, Pug, Jack Russel)
Medium (80g): for dogs from 10 to 14 kg (e.g. French Bulldog, Cocker Spaniel, Whippet)
Large (110g): for dogs from 15 to 24 kg (e.g. Border Collie, English Springer Spaniel, Standard Schnauzer, Staffordshire Bull Terrier)
X-Large (140g): for dogs from 25 to 34 kg (e.g. Golden Retriever, Labrador Retriever, Riesenschnauzer)
Giant (205g): for dogs above 35 kg (e.g. German Shepherd, Great Dane, Newfoundland, Rottweiler)
Ideally the natural dental stick should last 2 weeks to 1 month. If your dog finishes the dental stick sooner, consider a size bigger.
When the NATURAL DENTAL STICK is almost finished, it is advised to remove the remaining smaller piece. You can also heat the remaining smaller piece in the microwave and give it as a delicious soft snack to your dog.
Make sure to provide your dog with enough fresh drinking water.
from happy animals, because who believes #AD anyway...
other dog owners also bought...